25 Mar

4. The Word Cloud and Brand You – The Last Reprise
The Word Cloud and Brand You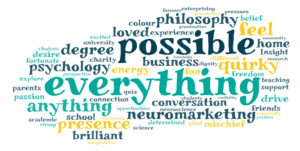 The word-cloud is graphic art-representation of a collection of words that you have used in the fireside chat that are larger in size in accordance with the frequency that the words have been used. In the first word-cloud blog, we focused on what a word-cloud is and how you can use it as your sole-compass. The second blog explores the side-benefits – the little "easter egg" surprise spin offs of the word-cloud.
In this third and final blog, the focus is on how the word-cloud can be used to understand the impact you leave with customers. Furthermore, the blocks you have within your psyche that might prevent you from realizing your full potential are explored. We can introduce you to people who can take what we do within the Fourth Space to a level beyond your competitors.  We use a mutli-dimensional approach that acts as a transmitting beacon of who you are, what you stand for, and why people should connect with you.
Collaborating for Success
So, let's start there. We collaborate with Miranda Birch who can turn your word-map and fireside chat into engaging stories. Stories that will change attitudes and connect with new audiences. We also collaborate with Jackie Perkins, who creates a consistency of your style and colours that represent you to your target audience. Collectively, we transmit the visible, visual and verbal authenticity of your business. The three corners of power that allow you to communicate your inner drivers behind your purpose in a consistent and compelling manner that connects with your audience.
Moving on to videograms, the word-cloud process is based on a videoed fireside chat. This video can be split into compelling Brand You messages. These form part of your social media marketing strategy to attract your audience towards your business based on your authenticity. Sampled audio combined with longer-format bespoke videos form powerful Brand You marketing assets. In short, both the audio and video are useful as micro and macro-marketing tools.
The word-cloud is a co-creative process. As part of that process, we talk through the completed word-cloud together. There are usually a couple of words that do not land neatly and cause an uneasiness. If there is a willingness to explore, then these words may form a foundation for some self- limiting beliefs.  They may inhibit your ability to fulfil your dreams and use your skills to their full potential. We collaborate with Jackie Perkins who can help unblock these limitations. All this releases the space for the full force of your soul and purpose to take flight.
The Word Cloud and Your Purpose Brand: Moving On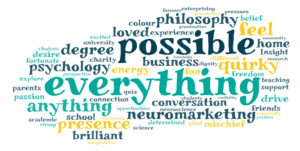 This is last in the series of explanations of the first part of the journey, the word-cloud. The first stage in creating your biosphere. It resembles a mini Eden Project that is a representation of what makes you thrive and survive. Thus, communicating your core purpose to the world, which attracts the people you most want to work with.
Next, we move on to how we use the word-cloud as a bridge to colour psychology. This allows you to represent your purpose in branding colours to attract your audience through a push and pull technique. Colour psychology acts as a constant reminder of your core beliefs as you surround yourself with your colours. Lastly, you will learn to understand the psychological meaning of the colours through the co-creative process of developing the word-map into colour psychology and, finally, into your branding colours.
– Nick Horton, The Fourth Space founder
The Fourth Space : Understand,  Own and Launch Brand You


Read on…
The Magic Stardust of The Fourth Space